The cryptocurrency market has recovered from its recent slump, with Bitcoin and other leading cryptocurrencies currently rallying.
The broader cryptocurrency market has performed well over the past 24 hours. Bitcoin has crossed the $48,000 mark for the first time this week. Ether and the other leading cryptocurrencies have also recovered.
However, one of the biggest performers among the top 20 cryptocurrencies by market capitalization is AVAX from Avalanche. The coin has gained more than 14% in the last 24 hours, surpassing the other leading cryptocurrencies.
The rally is fueled by the news that BitGo, one of the largest custodians of cryptocurrencies, has added AVAX. The inclusion of AVAX in the BitGo platform means that more institutional investors will gain access to the cryptocurrency. Mike Belshe, CEO of BitGo, said:
"Institutional investors can now access AVAX within the most secure custody offering on the market, and tens of millions of home users have the potential to gain secure access through the exchanges and platforms based on our technology."
Important levels at a glance
Thanks to the introduction of AVAX in BitGo, the AVAX/USD 4-hour chart is currently one of the most bullish charts in the crypto space. The technical indicators of the coin show that AVAX is currently performing excellently.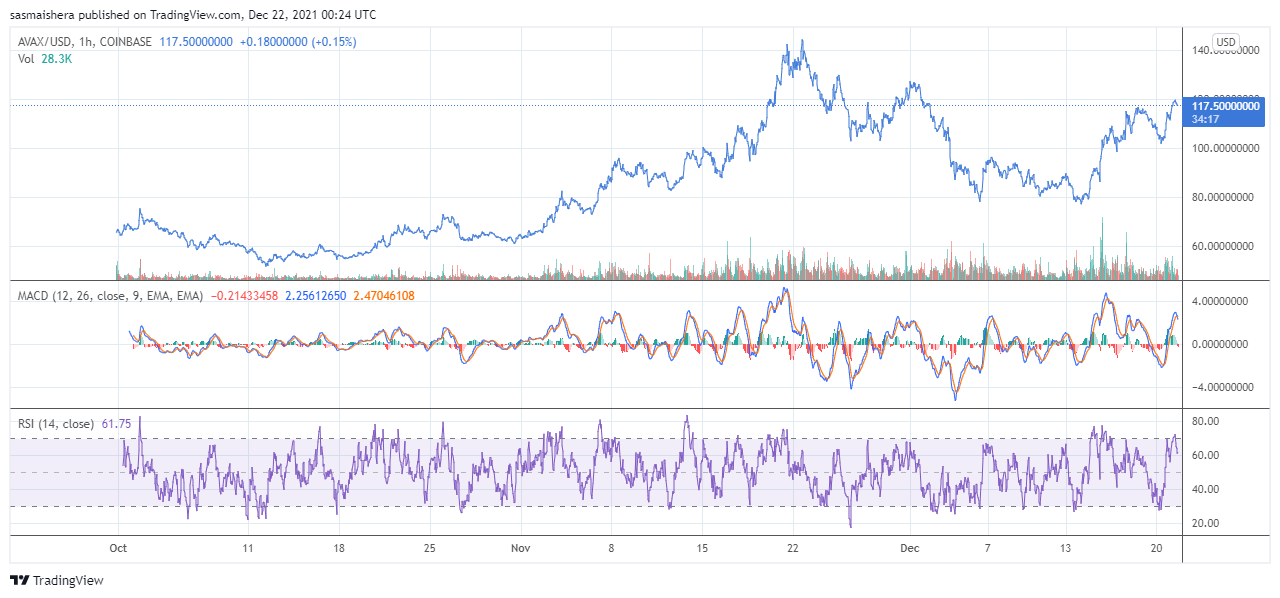 AVAX's MACD line crossed the neutral zone a few hours ago, which indicates a strong uptrend of the cryptocurrency. Also, the RSI of 61 shows that AVAX is moving towards the overbought area. At the time of writing, AVAX is trading at $117 per coin, above its simple 50-day moving average.
What you can expect
If the current market dynamics are maintained, AVAX could try to cross the first major resistance mark at $ 125 in the coming hours. In the event of a sustained uptrend, AVAX could reach the $130 mark before the end of the day.
However, if the bear regains control, AVAX could try to defend its first major support level at $110. Unless there is a massive sell-off, AVAX should stay above the 100 in the short term.