The cryptocurrency market continues to underperform, with the total crypto market capitalization close to losing the $2 trillion support level.
The broader cryptocurrency market has underperformed in recent weeks. Since Bitcoin and Ether hit new all-time highs in November, the market has underperformed.
Bitcoin has lost more than 30% of its value since the all-time high, while Ether has also lost almost that percentage. Ethereum has managed to stay above the $4,000 support level for most of the bearish run.
However, the second largest cryptocurrency by market capitalization has now lost this support level and there is a risk that the value will slip even further. The price of Ether yesterday fell below the $ 4,000 mark and may decline in the coming hours.
At the time of writing, ETH is trading at $3,840 per coin, a drop of a little less than 4% in the last 24 hours. Ether risks losing the $3,800 support level if the current market situation persists.
The ETH/USD 4-hour chart is bearish, similar to the broader cryptocurrency market. The technical indicators of the cryptocurrency indicate that Ether is currently underperforming, and the bears are in full control.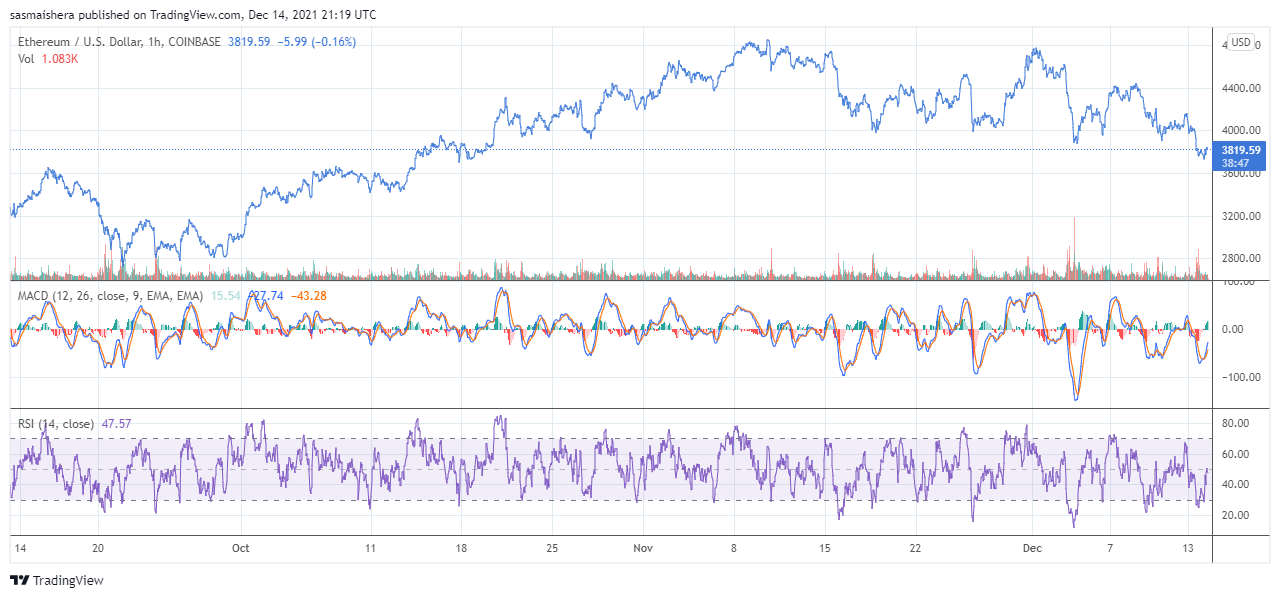 Ether's MACD line is deeply rooted below the neutral zone, which suggests that the bearish sentiment in the market is still in play. In addition, the 14-day Relative Strength index (RSI) of 49 indicates that Ether may soon break into the oversold area.
If the current market situation continues, Ether could fall below the first major support level of $3,420 in the coming hours. In the event of a prolonged decline in performance before the end of the day, ETH could fall below the $ 3,000 mark for the first time since October.
However, if the bulls regain control of the market, Ether could rise above $4,100 towards the first major resistance level. A sustained bullish performance could allow the second largest cryptocurrency to reach the $4,300 mark before the end of the day. However, ETH would need the support of the broader crypto market if it intends to rise higher.