The broader cryptocurrency market has started the day with a slight decline. However, Kadena continues to trade in the green area.
The cryptocurrency market rebounded yesterday and Bitcoin hit a new all-time high of over $69,000. However, the price of BTC has fallen slightly again and is now trading below the level of $ 65,000 on several crypto exchanges.
Some other leading cryptocurrencies, including Ether, Binance Coin, Cardano, Polkadot and Dogecoin, are also currently trading in the red. Of the few coins that are in the positive range, Kadena (KDA) is one of the top performers.
Kadena has risen by almost 10% in the last 24 hours. Its weekly profits grew by 160%, which makes it one of the most powerful coins on the market. Kadena's rally has extended in recent weeks and is fueled by blockchain's entry into the decentralized finance (DeFi) and non-fungible tokens (NFT) sectors.
Kadena launched a packaged version of its token called wKDA last week, signaling its entry into the DeFi space. The packaged version of its token operates on the Ethereum blockchain and interacts with the other major Ethereum Virtual Machine-compatible DeFi protocols.
The Kadena blockchain now houses some NFT projects. The UFO team announced a few weeks ago that it would launch an NFT gaming platform on the Kadena network.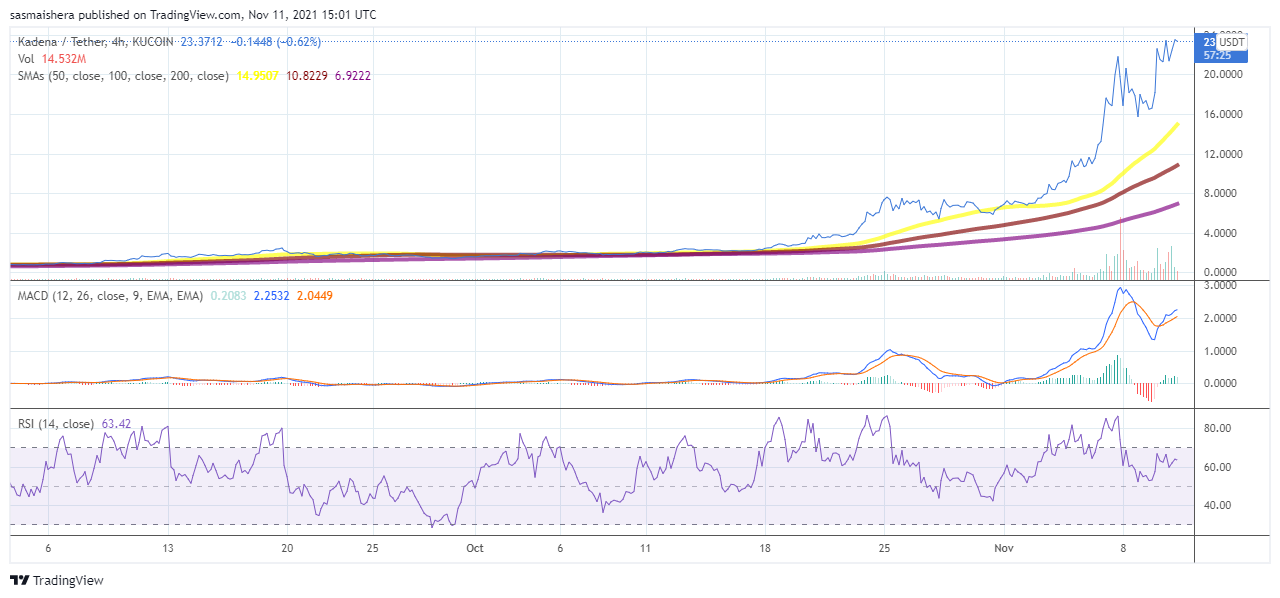 What you can expect
The KDA/USD 4-hour chart is very bullish thanks to the coin's performance in recent weeks. At the time of writing, the MACD line was above the threshold, which indicates bullish momentum. Meanwhile, the RSI of 63 shows that KDA is moving into the overbought area.
KDA is currently trading at $23.38 per coin. If the coin continues with its current momentum, it could test its all-time high of $25.34 in the next few hours or days. Exceeding the all-time high of $ 25,34 could allow KDA to recover in the next few days and move towards the psychological threshold of $ 28.
However, KDA could also withdraw after the rally of more than a week. A drop to the USD 20 pivot level is likely to trigger another sell-off. KDA in this case could quote around the $ 18 region.