AVAX has reached a new all-time high, despite the fact that the broader cryptocurrency market has reached its fourth this week it achieved an underperformance.
AVAX, the native token of the Avalanche ecosystem, reached a new all-time high of $110 a few hours ago. The coin rose by more than 10% in the last 24 hours, reaching a high of $110, although the broader cryptocurrency market was underperforming.
At the time of writing, AVAX has fallen to the level of $ 104, but remains one of the best performers in the cryptocurrency market. The rally is due to the massive growth of the Avalanche network in its decentralized finance (DeFi) ecosystem.
According to DeFi data tracking website DeFi Llama, the total value of funds blocked in Avalanche DeFi logs reached $10 billion within a few hours. This latest development makes Avalanche one of the best DeFi networks in the cryptocurrency space.
AVAX is the twelfth largest cryptocurrency by market capitalization. The Avalanche network challenges leading blockchains such as Ethereum, Solana, Cardano and Binance smart chain in the DeFi area.
Important levels at a glance
The AVAX/USD 4-hour chart is one of the most bullish among the top 20 cryptocurrencies by market capitalization. At the time of writing, AVAX has risen by more than 5% in the last 24 hours and is trading above $104 per coin.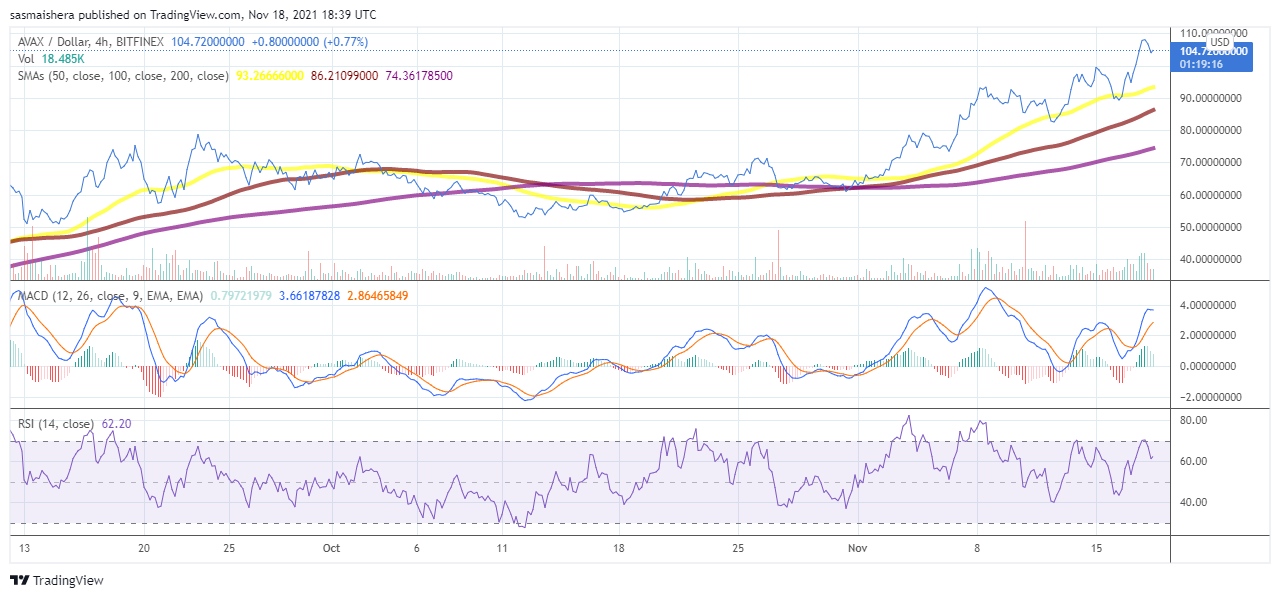 AVAX's MACD line is above the neutral level, while the relative Strength index of 61 shows that the cryptocurrency is bullish and may start another rally soon. If the current market dynamics are maintained, AVAX could reach its all-time high in the coming hours.
A prolonged positive performance from AVAX could push it to a new all-time high around the $115 mark. However, it would need the support of the broader crypto market to climb even higher in the coming days and weeks.
AVAX could also pull back after its recent rally and test the $100 support level. However, unless there is a sell-off in the broader crypto market, AVAX should comfortably stay above $95 per coin.