A Non-Fungible Token (NFT) is a term that has gained traction on the market lately. When someone calls an item or work of art "fungible," it means that it may be exchanged for another of equal worth. There are many examples of this, such as exchanging one bitcoin for another.
The intrinsic value of non-fungible items makes it difficult to exchange them for anything else of the same sort. Imagine switching a Da Vinci painting for another identical one, which is clearly impossible. Digital collectibles are in high demand as a result of this mechanism. NFTs may be described in simple terms using this terminology.
This article focuses on five of the most promising and high-profile NFT projects.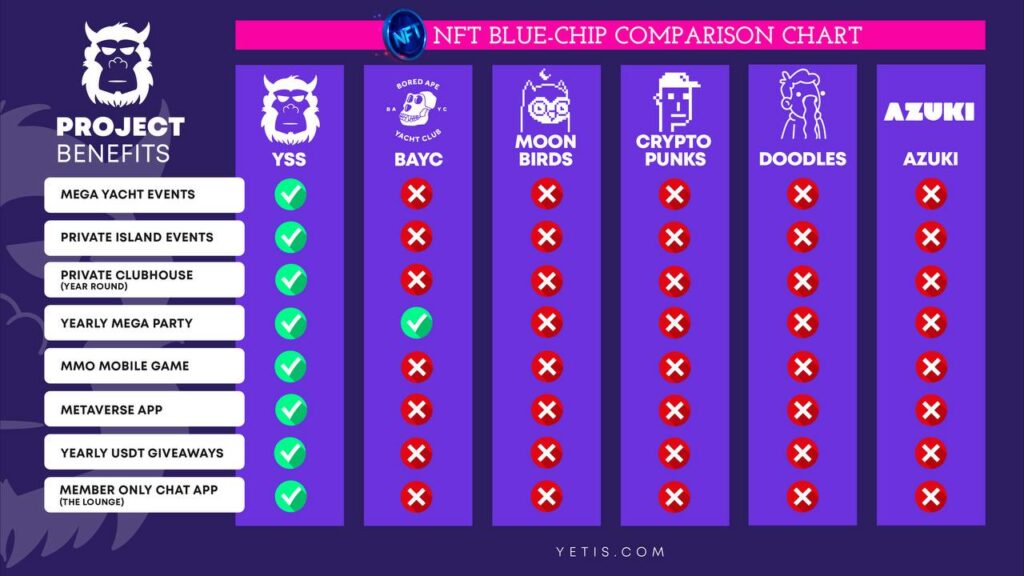 Yeti Secret Society
One of the project's NFTs is required to join the Yeti Secret Society. Only via a policy of exclusivity, according to the founders, can the company achieve its goals. These new NFTs will be available to pre-mint users first. 
For investors, the NFT's rarity is a major consideration. Yeti Secret Society's developers believe that their project's popularity will rise as a consequence of their focus on exclusivity and innovation. 
A "Club" is at the core of the team's goals. In order to use this service, all owners of the Yeti NFT will be able to participate in various parties and celebrations. If you're interested in staying up to date on the project's progress, keep an eye on the group's principal communication channels, Twitter and Discord.
For the project's success, the team considered organizing a boat tour for 600 people an essential operation. Thanks to this unique project, members and celebrities may rent entire islands for vacations.
As part of their partnership with Sapphire Studios, the Yeti Secret Society will soon unveil its MMO game and a Metaverse framework. 
As a result of their previous work on a range of internet-related projects, the founders of the Yeti Secret Society have extensive knowledge of the industry.
NOUNS
The arbitrary production of NOUNS is one category of NFTs that is now capturing the interest of investors. There are an infinite amount of possible combinations due to the fact that there are two backgrounds, thirty bodies, and other attributes.
After the production of this NFT, the inventors will not have any need to develop any other NFTs for at least a few years.
NOUNS DAO operates as a true democracy, with every issue being put to the vote of the membership. Votes can be cast by those who possess the NOUN. There is a limit of one vote that may be cast by each NOUN bearer.
The software on the computer will generate a brand new NOUN on a daily basis. After the conclusion of one auction and the wrapping up of its proceedings, another one is promptly organized.
The group has high expectations that the pre-designed NFTs provided by NOUNS DAO will generate innovative concepts in the fast-developing field of NFTs.
Creature World
The Creature World NFT collection is chock-full of love, providential guidance, and boundless opportunities. NFT Creatures provide their owners with assistance and support along this path of discovery.
You get access to the Creature World through the use of NFTs. In this world, every decision you make has an effect on the artwork.
Danny Cole, an New York artist, is responsible for the creation of the Creature World NFT Collection. The life of the American painter and artist who works in a variety of mediums has always included a significant amount of sketching.
When he felt lonely or unhappy, this artist would use drawing as a means of self-expression.
Before he started working on Creature World, Danny was already well-versed in the field of animation, thanks to his previous work as a graffiti artist and director of music videos. It is incredible what he has achieved for someone who is only 22 years old.
In addition, Danny Cole is regarded as one of the most talented young artists now active in the industry by Gary Vee, a well-known member of the NFT community.
Autograph.io
As a non-fungible token (NFT) platform, Autograph.io was launched on December 9, 2021, after being established by Tom Brady, Richard Rosenblatt, and Dillon Rosenblatt. The site makes it possible to create new NFTs with well-known VIP names, as well as acquire and sell existing ones.
Icons work with Autograph to mint and distribute limited edition NFTs as a means of digitally monetizing their respective businesses.
Within only a few short days of the platform's launch, Autograph.io was able to amass more than $170 million in funding from some of the most well-known cryptocurrency investors in the world. The collections were completely sold out and generated more than $1.3 million in revenue within the first ten minutes after the introduction of the portal.
The name Autograph has already been brought to the attention of a lot of famous people as well as well-known businesses.
The use of cryptocurrency as a form of payment is not supported by Autograph.io. Despite this, the organization has ambitions to expand its currency support in the not-too-distant future.
MekaVerse
The MekaVerse collection has over eight thousand mechas that are produced in a dynamic manner. The project takes its design cues from one of the many different mecha worlds seen in Japanese media.
Two bright newcomers to the NFT community, 3D artists Mattey and Matt B, produced the MekaVerse project. Mattey and Matt B are responsible for the project's creation and current development.
According to the website for the venture, the MekaVerse project intends to bring the Mekas to life using high-quality toys that were manufactured using 3D printing technology.
The creators of MekaVerse and the proprietors of its characters are now debating the future of the project. It is very clear that the market is responding extremely favorably to the initial phases of this endeavor.
Long-term goals for the project include working with well-known artists and creating animated short films. This will be accomplished through collaboration.