The cryptocurrency market has seen massive losses in the past few hours as BTC and other cryptocurrencies have slumped.
Bitcoin has fallen below the $60,000 mark for the first time since October as the broader cryptocurrency market retreats. The slump came after a spokesman for the Chinese National Development and Reform Commission (NDRC) harshly criticized Bitcoin mining during a press conference a few hours ago.
Meng Wei attacked the leading cryptocurrency, stating that Bitcoin mining consumes a lot of energy and generates masses of CO2 emissions. As a result, the NDRC, China's leading economic planner, said it will launch a comprehensive crackdown on crypto mining.
The Commission wants to take action against commercial mining and investigate the role of state-owned companies in the industry. She added that there are many risks in the production and trading of cryptocurrencies, and called the crypto sector blind and messy.
After Meng's attack on BTC, the leading cryptocurrency has lost more than 10% of its value in the last 24 hours. BTC was still trading at over $65,000 yesterday, but is now at $59,374 per coin.
Important levels at a glance
The BTC/USD 4-hour chart has declined after the recent performance of the cryptocurrency. At press time, BTC is trading just below the $60,000 mark and has lost more than 10% of its value in the last 24 hours.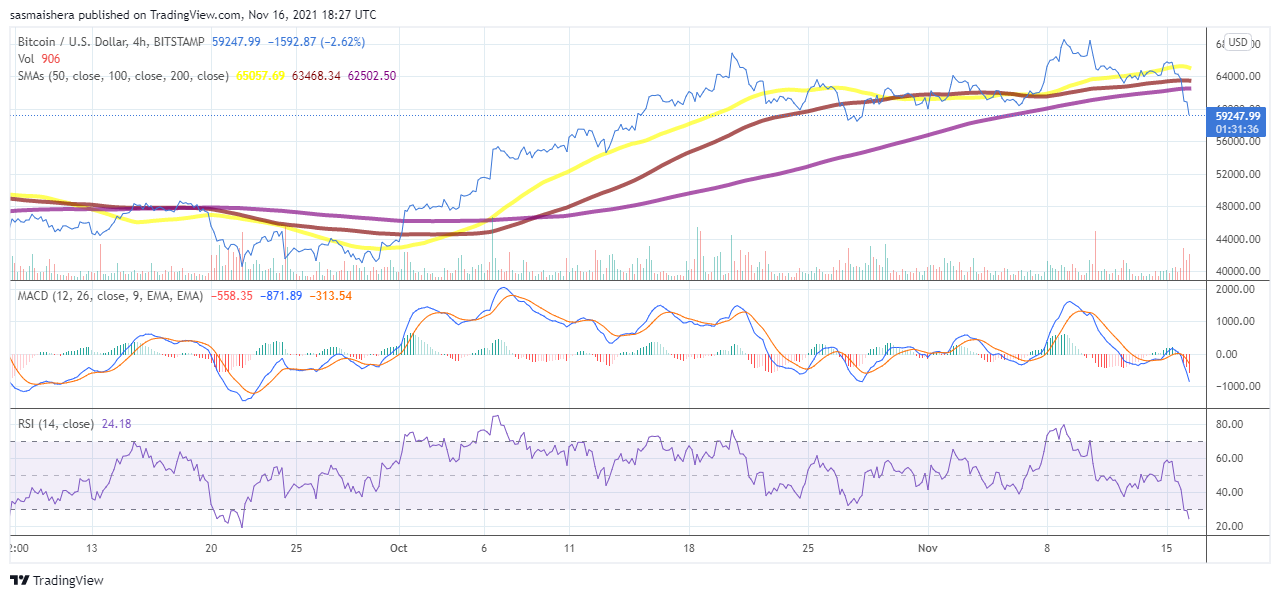 BTC's MACD has fallen below the neutral zone, indicating a bearish development of the market, while the RSI of 24 shows that BTC is currently heavily oversold. If the current momentum is maintained, BTC could fall towards the initial support level at $56,636.
However, unless there is a prolonged sell-off in the market, Bitcoin should comfortably stay above the level of below $53,000 in the coming hours. On the other hand, the market could recover and BTC could head for the 100-day SMA at $63,471 in the next few hours.
An extended rally of Bitcoin and the broader market could inspire BTC to reach the $65,000 level again in the coming hours.