The cryptocurrency market has underperformed in recent weeks, and the losses could extend over the next few days.
The crypto space has lost more than $300 billion in recent weeks. Bitcoin and Ether reached new all-time highs earlier this month after an extended rally that began at the beginning of the fourth quarter.
However, Ether has been struggling since it hit a new all-time high above the $4,800 mark. The second largest cryptocurrency by market capitalization struggled below the $4,500 mark a few hours ago and could fall below $4,000 for the first time in weeks.
There is no significant catalyst behind the recent fall in prices. The bearish trend has had an impact on the cryptocurrency market in recent weeks, with the prices of most coins falling by more than 20% during this period.
Unless the bulls regain control of the market, ETH and other leading cryptocurrencies could see further losses in the coming days.
Important levels at a glance
The ETH/USD 4-hour chart is currently in decline after Ether slipped to the level of $4,000 a few hours ago. At the time of writing, ETH is trading at $4,059 per coin, which is a decrease of more than 5% over the past 24 hours.
Ether's MACD is below the neutral zone, while its RSI of 37 indicates that ETH is currently oversold. The indicators are currently showing a sharp decline in performance for ether, and losses could widen in the coming hours.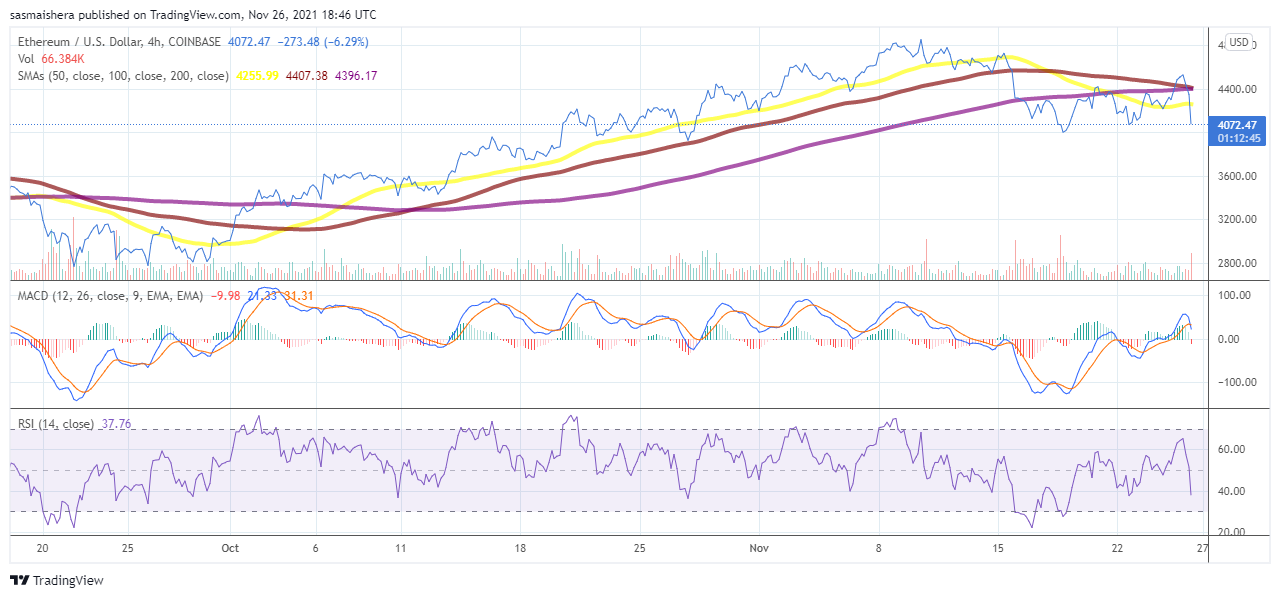 If the current performance is maintained, ETH could fall below the $4000 mark for the first time since October. A prolonged bearish performance could lead to ETH being forced to defend the main resistance level near $3,500.
However, if the bulls regain control, they could push ETH beyond the $4,200 pivot level. Crossing the pivot level of $ 4,200 could cause Ether to recover in the next few hours towards the resistance point of $ 4,400. Unless there is a sustained bullish performance, the $4,600 resistance point should limit any short-term upward movement.