The cryptocurrency market is currently retreating again after the recent improvements. Loopring (LRC) has increased by more than 40% in the last 24 hours.
The cryptocurrency market has rebounded since the beginning of the week, with Bitcoin, Ether and several other coins hitting new all-time highs. However, the prices of most coins decline slightly as the market retreats.
Bitcoin has fallen by 2% in the last 24 hours, while Ether has lost 1.8% of its value during this period. Despite Bitcoin and most altcoins currently trading in the red zone, Loopring has currently surpassed every cryptocurrency in the top 100 by market capitalization.
At the time of writing, LRC has risen by 40% against the USD and is trading above the $3 mark. Over the past seven days, LRC has increased its value by more than 90%. The rally was caused by rumors of a possible partnership with GameStop on an upcoming NFT marketplace.
GameStop became a popular meme stock a few months ago and has caught the attention of some crypto investors and traders due to its performance earlier this year. As a popular gaming brand, GameStop, which may be partnering with Loopring on an NFT project, has seen LRC's price skyrocket in recent days.
Important levels at a glance
The LRC/USD 4-hour chart is one of the most bullish in the cryptocurrency space, thanks to the performance of the token. With an RSI of 82 and the MACD line in positive territory, the technical indicators show that LRC is currently very bullish.
LRC has just crossed the $3.2 pivot point after establishing strong support just above its simple 100-day moving average at $1.57.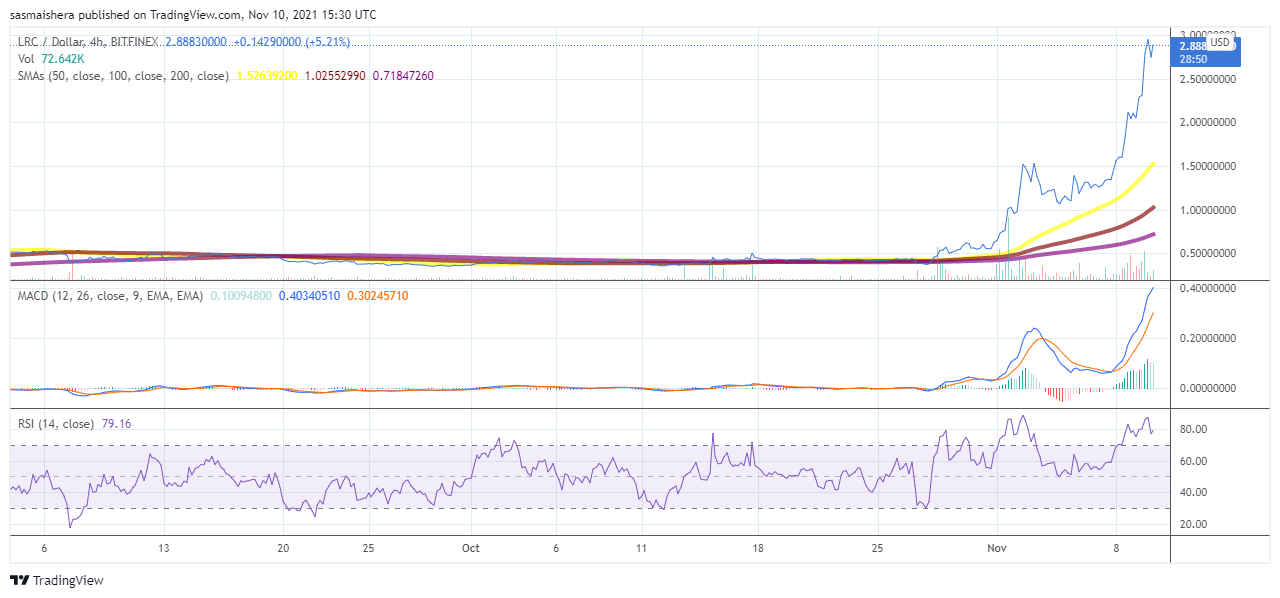 What you can expect
LRC could recover in the coming hours if the coin maintains the current momentum. The cryptocurrency may try to cross the resistance mark of $ 3.5 in the coming hours, having recently cracked the pivot point of $ 3.2.
In the event of a longer rally, LRC could reach the $4 mark before the end of the day. However, the cryptocurrency could also regress after a rally of more than 40% in the last 24 hours.