The cryptocurrency market has partially recovered from last week's slump and the coins are developing better than before.
The broader cryptocurrency is recovering from the slump that hit global financial markets last week. Bitcoin is trading just below the $57,000 level, while Ether has stabilized and will soon rise above the $4,200 mark.
However, one of the most powerful cryptocurrencies is Tezos. XTZ has risen by more than 15% in the last few hours, surpassing the other leading cryptocurrencies. The rally was due to the integration of Tezos into NFTrade.
NFTrade is a project that aims to bring the non-fungible token (NFT) space closer by creating a cross-chain NFT marketplace. The project aims to make it easy for users to move NFTs across numerous marketplaces such as OpenSea, Axie Infinity and Rarible.
The project has decided to use the Tezos blockchain for the cross-chain function, which led to a rally of the XTZ coin in the last few hours. The NFT sector has become a multi-billion dollar market, and it is expected to become even larger in the coming months and years.
With Tezos playing a critical role in simplifying the transfer of assets across the industry, the value of XTZ is also increasing.
Important levels at a glance
The XTZ/USD 4-hour chart is currently one of the most bullish cryptocurrency charts in the room. The MACD line has crossed the neutral zone and is in the bullish area after the recent rally of the coin.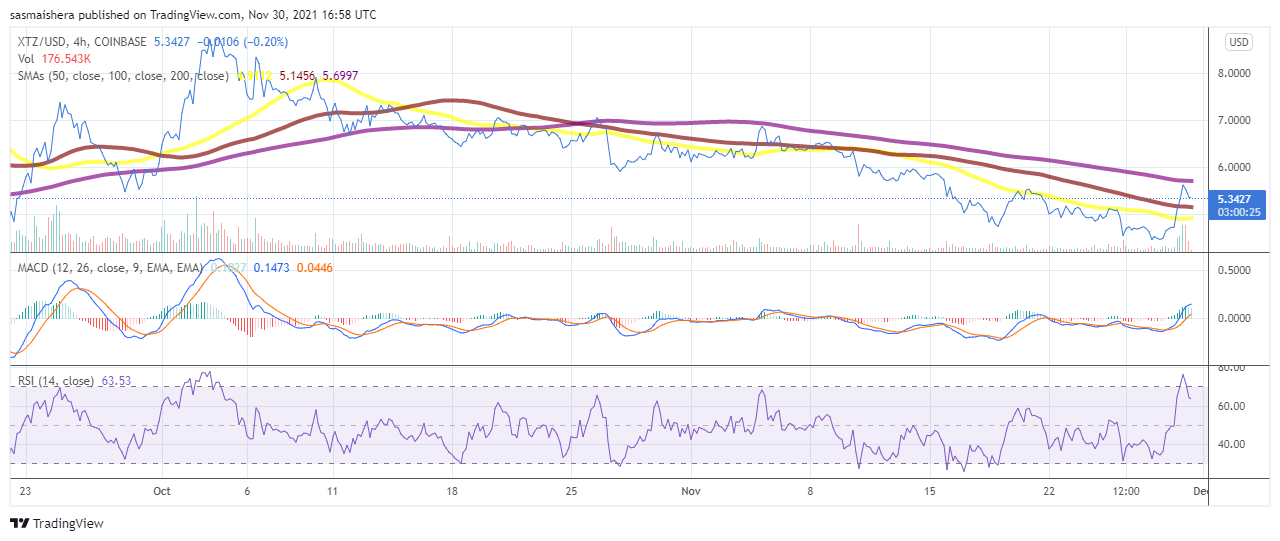 In addition, an RSI of 64 indicates that XTZ is moving into the oversold area. At the time of writing, XTZ is trading at $5.4 per coin. If the current momentum is maintained, XTZ could rise in the next few hours towards the resistance level of $ 5,82.
In the case of a longer rally, XTZ is likely to break the resistance mark of $ 6.5 before the end of the day. However, it would need the support of the broader cryptocurrency market if it intends to exceed this level.