The cryptocurrency market has stagnated in recent days. However, some coins have performed well, including the KuCoin token.
The broader cryptocurrency market stagnated over the weekend. Bitcoin remained above the level of $ 65,000. However, some cryptocurrencies have performed excellently during this period.
KuCoin Token (KCS) is currently one of the top performers in the market. KCS has risen by more than 8% in the last 24 hours and is trading above the $26 mark. This latest development occurred after KCS crossed the $23 resistance mark.
The rally was fueled by KuCoin's listing of Shiba Inu (SHIB) last week. Shiba Inu is one of the leading cryptocurrencies in the world and has gained a large following in the crypto space. The CEO of KuCoin, Johnny Lyu, announced that SHIB's trading volume had surpassed that of Bitcoin for at least three consecutive days on its trading platform.
He stressed that it is worth keeping SHIB for the long term, despite the recent price correction of the cryptocurrency.
Important levels at a glance
The KCS/USDT 4-hour chart is currently bullish after the recent performance of the cryptocurrency. At the time of writing, KCS is trading at $26.38 per coin, an increase of more than 8% in the last 24 hours. The RSI of 66 shows that KCS is close to the overbought sector. Moreover, his MACD is above the bullish zone.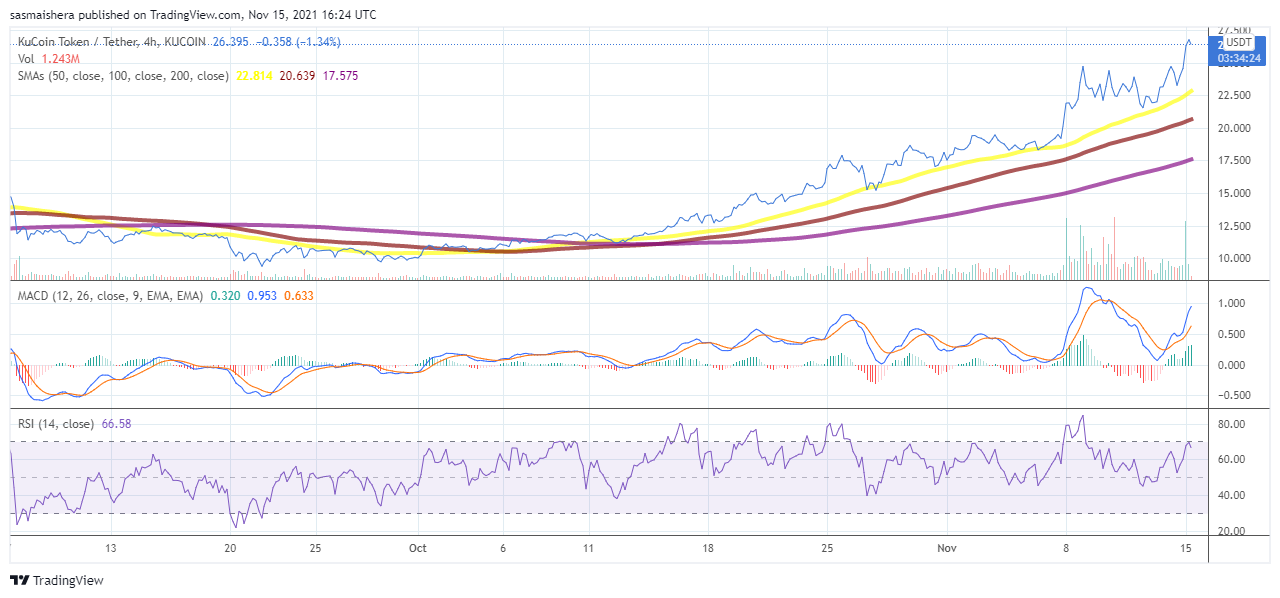 Since the technical indicators show that sch KCS is currently behaving bullish, the price of the cryptocurrency could rise in the coming hours. If it maintains its current bullish momentum, KCS could make a move towards the $30 resistance mark in the next few hours.
In the event of a prolonged rally, KCS could surpass the $ 33 mark in the coming hours. However, it would need the support of the broader cryptocurrency market to rise higher. On the other hand, KCS could easily decline back towards the $23 support level if the bears took control. Unless there is a massive sell-off, KCS should be able to defend the $20 support level in the next few hours.