The cryptocurrency market continued its weak performance this week, with several coins trading in the red.
The broader cryptocurrency market had underperformed again this week, with the prices of most cryptocurrencies falling by over 5% in the past week. Bitcoin is still struggling below the $60,000 mark and is currently trading above $55,000. In the last 24 hours, BTC has again dropped by more than 3%.
However, one of the cryptocurrencies that have performed well in recent days is LUNA, the native coin of the Terra blockchain. The price of the cryptocurrency has increased by more than 5% in the last 24 hours, which makes it one of the top performers among the top 20 cryptocurrencies by market capitalization.
LUNA's rally is due to the recent milestone that the Terra blockchain has reached. According to recent reports, the total value of the blocked (DeFi) protocols on the Terra blockchain exceeded $12 billion earlier this week.
This latest development made Terra the fifth largest DeFi blockchain. LUNA has overtaken Avalanche and Shiba Inu and is now the eleventh largest cryptocurrency by market capitalization.
Important levels at a glance
The LUNA/USD 4-hour chart is one of the most bullish in the cryptocurrency space. At the time of writing, LUNA is trading at $68 per coin, which is its all-time high. The MACD line is well above the neutral zone, which indicates that LUNA is currently very bullish.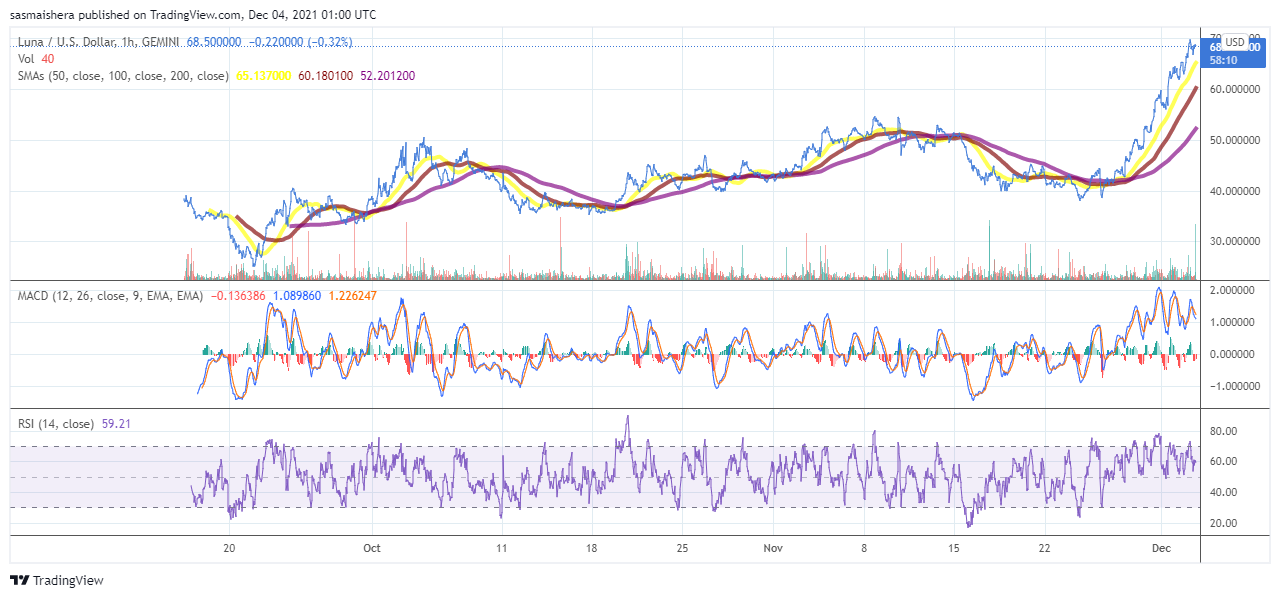 The RSI of 55 shows that LUNA is moving into the oversold area. Its technical indicators show that LUNA is recovering and its price could rise in the coming hours. If LUNA can maintain its current momentum, it could exceed the psychological level of $ 70 in the next few hours.
In the case of a longer rally, LUNA could target the main resistance mark at $ 75 over the weekend. However, it would need the support of the broader market if it intends to cross the $80 mark soon.