Some cryptocurrencies have performed well in the past few hours, although the broader market has seen losses over the same period.
The cryptocurrency market has been in a bearish trend for the past three weeks as Bitcoin and other cryptocurrencies are experiencing a massive slump. However, the market is slowly recovering, with some coins now developing well again.
LUNA, the native coin of the Terra blockchain, is currently one of the top performers on the market. LUNA's price has increased by more than 7% in the last 24 hours, surpassing the other major cryptocurrencies.
The rally was due to the fact that the Terra blockchain reached a new milestone. The total blocked value (TVL) of the Terra blockchain reached $11.9 billion today. This latest development makes Terra one of the leading decentralized finance (DeFi) blockchains in the world.
Terra is now competing in the DeFi space with Solana, Ethereum, Avalanche and Cardano. At the time of writing, LUNA has risen by 7% and is trading near the $ 64 mark.
Important levels at a glance
The LUNA/USD 4-hour chart is currently one of the most bullish in the cryptocurrency space, thanks to the coin's performance over the past few hours. The MACD line is above the neutral zone, which indicates a bullish pattern.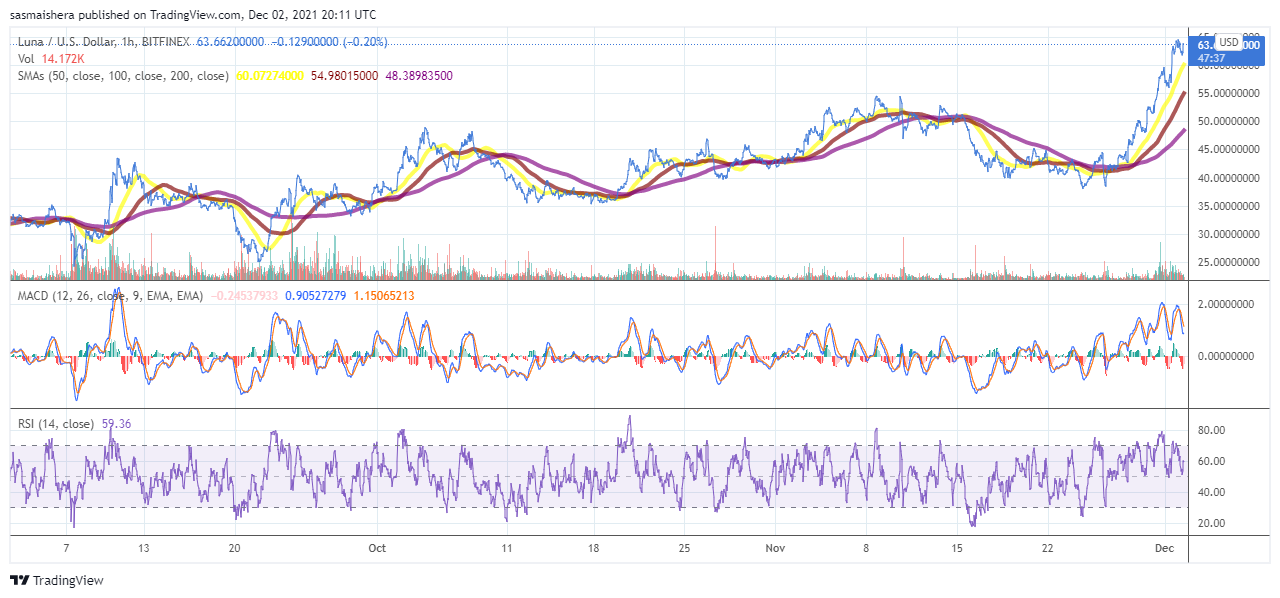 Meanwhile, the 14-day RSI has crossed the 60s mark. LUNA is bullish at the moment and it could expand its performance in the coming hours. If the cryptocurrency maintains its current momentum, it could rise above the first major resistance mark at $68 in the next few hours.
In the case of a longer rally, LIUNA is likely to rise even higher and break the psychological mark of $ 70 before the end of the year. However, the $75 resistance mark may limit further upward movement in the short term.
LUNA's performance in the next few hours could be determined by the broader cryptocurrency market.