The broader cryptocurrency market is currently in a bearish run, but SAND has increased its value by more than 30% in the last 24 hours.
The cryptocurrency market has underperformed since the beginning of the week, with Bitcoin falling below the $60,000 level today. Ether also gave in, risking falling below the $4,000 mark for the first time in weeks.
Despite the recent downtrend, some cryptocurrencies have outperformed the broader market. SAND is currently one of the most powerful cryptocurrencies, rising by more than 30% in the last 24 hours.
The most recent rally was due to the Sandbox team announcing that the Sandbox Alpha metaverse would launch on November 29th. The Metaverse alpha has been developed over the last four years. This would be the first time that users would have access to the available features.
The sandbox team said that a group of 5000 users would have the opportunity to earn up to 1,000 SANDS (worth around $3,300 at current prices) and three exclusive NFTs after spending time with the 18 experiences provided by the teams.
Important levels at a glance
The SAND/USD 4-hour chart is one of the most bullish charts among the top 100 cryptocurrencies by market capitalization. Its RSI of 71 shows that SAND is currently overbought, while its MACD is deep in the bullish area. This suggests that another positive performance could be in sight.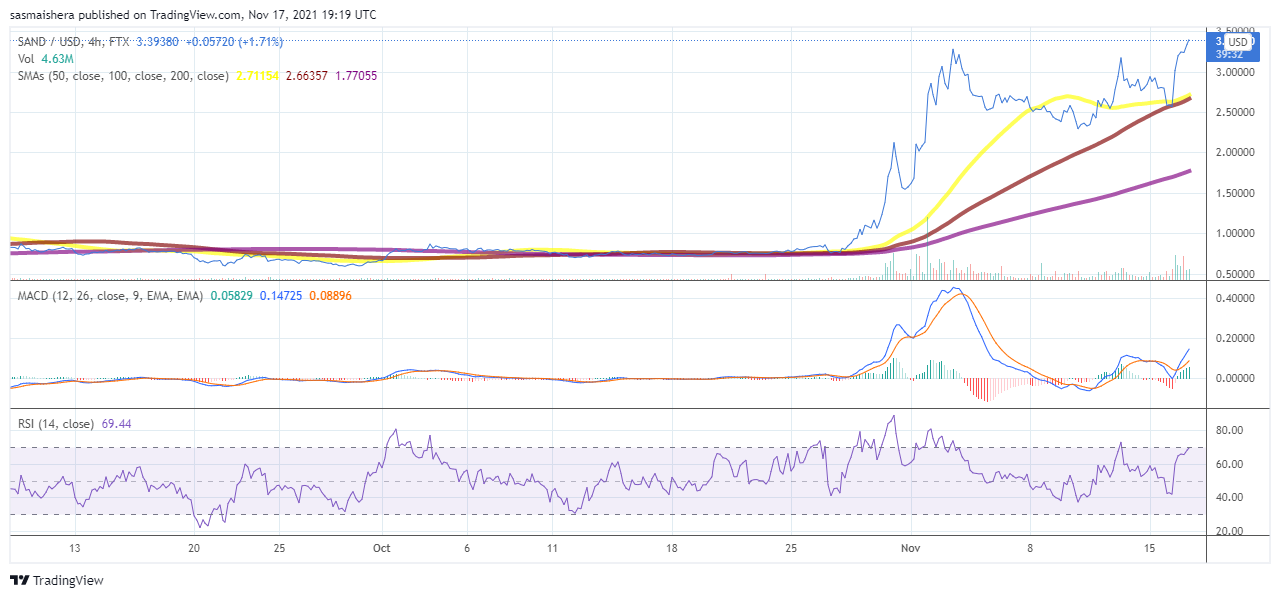 SAND is 11% below the all-time high of $3.63 that it had reached today. However, if it maintains its current momentum, SAND could recapture the all-time high in the coming hours and days, moving towards the $4 mark.
The medium-term outlook for SAND remains positive. The cryptocurrency could cross the $ 5 mark before the end of the year. However, for the coin to climb even higher, it would need the support of the broader cryptocurrency market.